Life 
 Life is a funny thing. One minute you're here, then the next you're gone. We're all a second away from losing it all, and the crazy thing is, we don't even realize it. We all feel like "that could never happen to me," and the reality of it all is that 'it' could happen to you. 
I'm a planner, and life has shown me that no matter how much I plan for stuff to go, things can still go south. I'm twenty three, and I'm not where I thought I would be in my life at this age. Things have happened in my life that I would have never thought would have happened, some good and some bad. 
Life and its crazy turns...
So, I'm going to share some things that have had happened to me in the past few years that led to a lot of my life lessons. 
In June of 2015 my grandma fell ill. She spent like a week and some days in the hospital. I now know and realize that things with her during that time could have ended differently for her. I thank God every day for not only showing her grace and favor, but my entire family as well. She's the backbone of our family, so we need her more than she'll ever know. 
Well, during that same time my grandma was sick I found out that I would not be returning back to Monroe for school. I had so many emotions going on during that time. I was pissed, sad, hurt, embarrassed and more importantly I felt like a failure. I was pissed at myself, because I had let myself down. I had plans and coming back home wasn't on that list. I felt like a failure, because at that point was my 'what now,' moment. We all have those moments, and for me I was completely lost. I didn't know what was next, and I think that's what bothered me the most. 
So, during that summer I spent all of it taking care of my grandma, and trying to figure out what I was going to do next. Y'all listen to me, please. God makes no mistakes and when he does things we might not agree with it or understand it, but there's a reason why he does what he does. I believe that I was made to stay home that following school year, because my grandma needed me to stay home with her. Thanks to my uncle and auntie I was able to go back to school as well, but at home. 
So, fast forward to August 2016 I was back in Monroe going back to school and living off campus with my roommate that I shared a room with when I was staying in the dorms. Everything was ok. I can't say that things were great, but they were ok. Well, the following summer 2017, I found myself back at home, again. Some things transpired to where I couldn't go back school again. Two years later, and I'm back in the same spot. I was back in my 'what now?' space. Let me tell y'all that was not a good feeling at all. This second time was harder for me to stay home than the first, because I had to actually sit a semester out of school. That pained me more than anything, but it was necessary and I didn't even know it. 
Earlier in 2017 I had reconnected with one of my old friends from middle and high school. The thing is we didn't have a huge fallen out or anything of that sort, we just out grew each other. The whole summer we played catch up with each other. We went out, and had plenty of late night talks, and so much more during that summer. I didn't know it at first, but our conversations were necessary.
So, September of that same year I wasn't in school, or working. Y'all I felt like a true bum, lol. I was slowly losing my mind and losing faith that someone would call me about a job. One day I remember me and my friend was having a conversation, nothing too deep, but about business. My friend owns her own business, which is a hair business. We always have small random conversations about her business ventures and ideas, so that conversation wasn't out of the norm for us. Well, while we were talking about that I told her that I had been having thoughts of writing a book. Y'all in that moment I knew that God had placed her back in my life for a reason. She didn't question me about it, she didn't make any crazy faces, she didn't make jokes or talk down on me about it, but instead she encouraged me. I remember her saying, "Go for it, Bre. What's stopping you?" Little did anyone know I had books already typed up on my laptop. 
The next month which was October, I submitted a sample of one of my books to three publishing companies. One publisher wrote back within a day, one declined me, and the other took a few days to respond. I decided to go with Major Key Publishing and it was the best decision I could have made. The same month I also got hired to be work with children ages three to five as a teacher's aide. 
January of 2018 I was able to register for class again. Everything was finally starting to make sense in my life again and I was finally starting to get back to a happy place. The next month I had my first book signing, and in the mist of all that I managed to fall in love again, and that part is still crazy to me, lol. During the summer I tried to work for Go Waitr since we were out of school and we don't get paid during the summer. Well needless to say I wasn't feeling that job, so I quit my second day working. I didn't know what I was going to do for money for the summer. I mean yeah I'm an author, but that check only comes once a month, so I needed another source of income. I had been playing around with designing websites, but it was nothing that I was taking serious. Well, the same week I quit Go Waitr is the same week I launched Creatively Breyoun Website Designs. I wasn't too for sure how my business was going to do, but God showed me within the first few days of me launching my business that I had nothing to worry about. 
After launching my business I started to have more business ideas come to me. I pray every night that God continues to lead me down the path that he has created for me. I also pray that God keeps the people that are truly for me in my corner.
Life is the greatest teacher...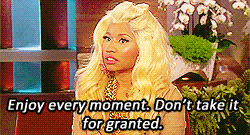 Pray about everything, and worry about nothing.
Seems like I've been taking hits since 2015, and I now see that all of those hits had to happen. It was necessary for me to go through some of the things that I did, so that I could learn from the situation. I had to go through those things that I did, so that I could learn to appreciate things and people more. God, has humbled me more than ever in these past three years, and I thank him daily for it.
I learned that no matter what you need your friends and family to lean and depend on. Honestly, true friends really do turn in to family. My three best friends, I really don't know what I would have done without them when I was going through my 'what now?' stage. God, placed my college bestie in my life to help keep me sane and stable while I was away from home. She saw me at my darkest moments, and she helped me through things that my family still has no clue about. My old middle and high school bestie came in when I needed her the most, and the crazy things is that I didn't even know that I needed her. She came in and helped me figure out my life in a sense, lol. My oldest bestie, she was there when I needed her the most while I was dealing with everything with my grandma. She wiped away every tear, and she was definitely my shoulder to lean on.
Life has shown me that everything doesn't go as planned. I can do all the planning that I want, but if it's not in God's plan then it will not prosper. Life has also shown me that if someone is meant to be in your life then God will make it to where they are placed back in your life. Sometimes you and a person need room to grow and then come back into each other space. It's always the person that you least expect to be the one to help you see and understand things about yourself.
Life has had a funny way of showing me some of the secrets that heaven has about me. I now know that I'm a writer and I'm a damn good writer at that. Never in a million years did I think that I would have a published book let alone eight in counting. The word entrepreneur was never in my vocabulary, but now I'm constantly thinking of ways for me to better myself and help others better themselves all while making money doing it. I have so many things planned for 2019, and I get nervous and happy when I think about it.
The other day I was talking with my boyfriend and I told him that I felt off, because I have all these plans for next year, and school wasn't in those plans. Like, school literally slipped my mind and I don't know how to really feel about that. He simply replied, "Life. Life is happening to you, and there is nothing wrong with that. When God feels that you are ready to get back it then you'll be back in some ones class, and not a moment before then." I thought about what he said and I realized that he was right, but I wouldn't dare tell him that, lol.
Life is crazy, man, and God is in control of everything. He has the power to flip your world upside down so that he can get your attention. Then once he has your attention he'll make everything right, again.
I want to leave y'all with a scripture that I live by daily, which is, Proverbs 3:5-6.  Until next time babes, I'm out.  
Please reload